Diacritically-Marked Text of
Beowulf
facing a New Translation
(with explanatory notes)
edited & translated by


---
from
British Library MS Cotton Vitellius A.xv
(Gneuss 399)
CLICK HERE FOR TEXT &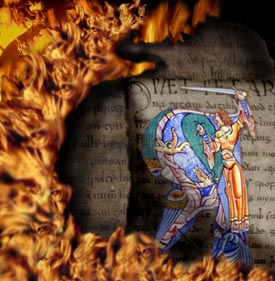 TRANSLATION OF BEOWULF

[for DSL/cable-modem, other fast internet-connexions]





The new translation provided for the new edition of Beowulf seeks a middle ground between intelligibility and literal translation. I keep each modern English half-line matched against its Old English counterpart, but the order of the words within the half-line is re-arranged, if necessary, to be more natural for the modern English-speaker. I also freely add functional words, such as articles, prepositions, conjunctions, &c. and punctuate as I see fit. Likewise, in terms of style, I seek a middle ground between sound and sense; I have not eschewed alliteration where it is naturally, but neither have I contorted sense or syntax in seeking it.



In punctuating the Old English text, I have in most places followed the edition of Mitchell & Irvine 2000.

Update: (June 2005)
I have re-edited the text and its apparatus to conform with the standard lineation of 3182, rather than Kiernan's 3184 lines. As I still agree with Kiernan about the lineation ll. 389-90 and 2228-30, this edition of the poem ends up with blank half-lines at 389b, 390a, 2228b, 2229ab, 2230a, in order to match the standard 3182-lineation. This change was partially inspired by Robert Fulk's (2003) article on the metrically necessity of the hypermetrical lines at 1163-8, 1705-7, 2995-6 (esp. Fulk 2003:10-13), as well as urging by Thomas Hart (pers. comm.).


Please email me at regarding typos, errors, questions, etc.